Stolper Geologic, Inc

ABOUT US

Search site for. . .
Sensitive Clays
Formation Damage
Rock-log Calibration
Low-resistivity Pay
Resource Plays
Tight Gas
Fractures
Wettability

Bob Stolper
Bob has worked in the energy industry since 1989. He manages our business, prepares reports and presentation materials, operates and maintains the scanning electron microscope, performs macro and micro-photography of rock samples, and built and maintains our web site.
References
We have many satisfied customers; references are available by request.
Kathy Stolper
Since 1980, Kathy has specialized in detailed visual reservoir rock analyses. She holds a U.S. patent on the technique she developed for observing and rating gas shows from cuttings and core samples (a description of the technique is in the appendix of our example report).
She was an invited guest speaker at the CSPG-SEPM Meeting in Calgary, Alberta (June 1997) to share her experiences in visually estimating Archie's cementation exponent "m" in order to calculate more accurate water saturations, and at an RMAG sponsored symposium (October 1997) to share her experiences in successfully applying visual rock analysis in exploration and exploitation projects. See our Documents and Publications page for copies of the available papers.
Besides extensive Mid-Continent/Rocky Mountain, Gulf Coast, and Canadian experience, Kathy has traveled to Australia, Malaysia, and Egypt for the purposes of completing visual analysis projects as well as training company geologists in the methods used. A more detailed experience list is on our Formations and Regions page.
Kathy had extensive reservoir rock analysis training with Canadian Hunter Exploration under the supervision of Howard King, Lorraine Druyff, and Robert M. Sneider (originator of the RMS classification system for clastics and partner with Core Labs/Reservoirs, Inc. in the World Wide Rock Catalog. The RMS classification system is described in the appendix of our example report). Kathy graduated Magna Cum Laude from Jersey Village High School in Houston, Texas. In 1991 she received her Bachelor of Science degree in Geophysics-Geology with a math minor from the University of Houston.
She is a member of the American Association of Petroleum Geologists and the Rocky Mountain Association of Geologists.
Family Team
Kathy and Bob Stolper have worked as a team, providing reservoir rock analysis to the oil and gas industry, since 1989. They live in Arvada, Colorado with their five children.
Copyright © 2009-2014 Stolper Geologic, Inc. All rights reserved.
About Us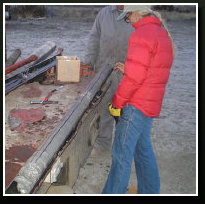 The Stolper Family
(L-R) Lena, Tina, Patrick, Kathy, Bob, Gina, Carson, Boss
Kathy
With core at a well site.
Reservoir Rock Analysis
Optical & Scanning Electron Microscopy