Not all of our published papers are available on this website.
Please
contact
us if you want something that's not here.
Published Technical Papers & Talks
Periodic Calibration: Porosity & permeability from cuttings.
Periodic Calibration: Cementation Exponent, Archie "m".
Includes summary table, interpretations, SEM and optical photomicrographs, macro core photos, visual analysis log and spreadsheet, explanations of Stolper gas shows, Sneider and Archie rock typing systems, and more.




Evidence and Causes of Super-Lithostatic Fracturing.
University
of North Dakota, Energy & Environmental Research Center (
1999/2000)
Leigh C. Price and Kathy

Stolper
Innovative Applications of Petroleum Technology Guidebook – 1997
Invited guest speaker at an RMAG symposium to share her experience in successfully applying detailed visual rock analysis in exploration and exploitation projects.
Invited guest speaker at the CSPG-SEPM meeting in Calgary to share her experience in visually estimating Archie "m".
Hydrocarbon Production From Low Contrast, Low Resistivity Reservoirs Rocky Mountain and Mid-Continent Regions Log Examples of Subtle Pays.
Impact of Archie "m" on Evaluating Conventional and Low Resistivity Pay.
R. M. Sneider, H. R. King, K. K. Stolper, J. T. Kulha
Houston Geological Society Bulletin (December 1994)
Stolper, Kathy
Houston
Geological Society Bulletin (September 1994)
Stolper, Kathy
Use Your Spreadsheet as a Tool for Exploration.
Stolper, Kathy and Stolper, Bob
Petrophysical Properties of Seals.
Sneider, Robert M., Kathy Stolper, and John Sneider
Archie's Cementation Exponent "m" (Order Vs Disorder). Also see published papers below.
Stolper Geologic, Inc

DOCUMENTS & PUBLICATIONS

Search site for. . .
Sensitive Clays
Formation Damage
Rock-log Calibration
Low-resistivity Pay
Resource Plays
Tight Gas
Fractures
Wettability

Copyright © 2009-2014 Stolper Geologic, Inc. All rights reserved.
Reservoir Rock Analysis
Optical & Scanning Electron Microscopy
NOTE: Your report will include only what you need and want.
Comprehensive Report
Success Example: Oil Producing Low-resistivity zone; incorrectly believed to be water-wet.
How common minerals can misleadingly influence log responses.
Also see published papers below.
How common rock attributes effect Archie's cementation exponent "m". Also see published papers below.


Documents
Informational
Brochure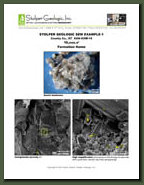 Typically how we document photomicrographs with interpretive annotations from our SEM analyses.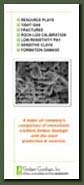 Typically how we document rock properties derived from our optical microscopy.
Visual Rock Analysis
Spreadsheet and Log
(Click on thumbnails to open.)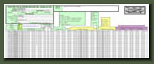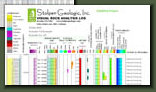 Scanning Electron Microscopy Report